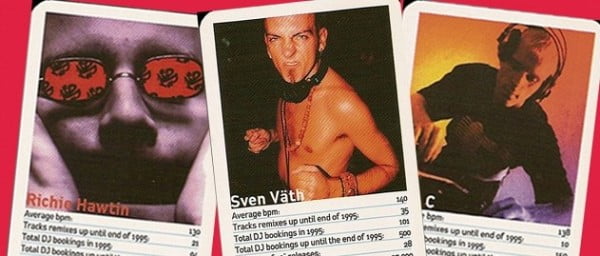 Secret Community of Ravers Swapping DJ Trading Cards in the 90's?
Top Trumps for DJ's - A Real Thing
The 90s marked the end, not only of a century, but also a millennium. The decade leading up to the year 2000 saw a lot of change and excitement. Many important events happened to shape not only the 90s but our lives since then. That change happened in every way you can imagine – politically, technologically, and culturally. With the Cold War over, Nelson Mandela free, and the Internet changing the way we work and live, the events of the 1990s provided the perfect bridge between the outrageous 80s and the dawn of the new century. Dance Music just happened to be in full swing, with the rave culture becoming more and more socially acceptable in mainstream society, the DJ was being fast tracked as the new rock star.
So it was a natural step in the evolution of the DJ, when the highly influential record label !K7, produced a series of trading cards of some of the biggest names in electronic music in 1996. Most of these DJ's still play out, produce and are still quite successful. Did you know, Sven Vath once played a set of 30 hours straight? Or that Richie Hawtin's shortest set was 5 minutes? Well, you would have if you bought yourself some DJ trading cards!
The most traded product on the dance floor's of clubs in the 90's, was very similar to that of this decade, so it's doubtful people would go to The Hacienda each week in hope of trading Carl Cox for Carl Craig. Although you'd definitely be the heart and soul of the party if you told your newly made raver friends that Carl Cox had a collection of over 30,000 records. No doubt girl's would flock to you hoping you would be in possession of the ever elusive Laurent Garnier card! However I think we all secretly hope that there was, and still is, a secret community at raves who actually do carry these around hoping to complete their collection of Techno pioneer trading cards.
These cards are actually quite a rare commodity now, so if you do come across a full set, it may well be a worthwhile purchase. This is the kind of thing that you would find at a car boot sale or maybe something your parents forgot about from their mysterious past as a raver and is still housed somewhere in your loft. Either way i'm incredibly happy these actually exist.