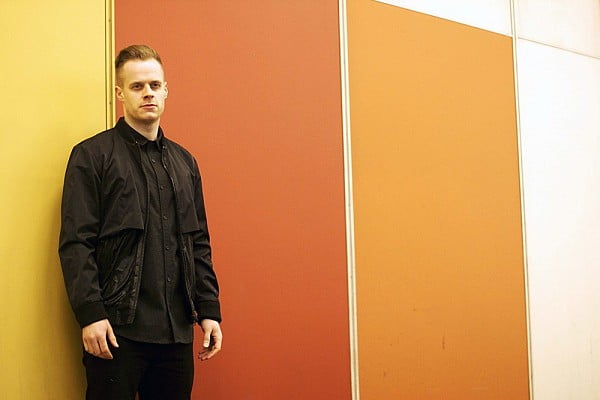 In The Mixdown #1 Cera Alba - Transition
Welcome to the first In The Mixdown, a brand new series that takes a deep look into some of the best tracks from the best producers in the dance music scene. Here we talk to Liam Jones – more commonly known as Cera Alba – about the dark dubby infector that is 'Transition'. The track found its home on the Crooks & Cads compilation from Save You Records released on Monday 20th May 2013. You will be hard pushed to find anyone more dedicated to developing such a rich blend of house and techno as Cera Alba. With an in-depth knowledge of music theory and production, alongside rich inspirations taken from the nation's best clubbing institutes and the obligatory pilgrimage to Ibiza he crafts a progressive sound firmly planted in the underground. Gearing up for a mass of releases across some of electronic music's most influential imprints in 2014, Cera Alba takes the time to reflect on 'Transition' one his most impressive productions to date – and it wasn't even meant to be released!
Hear the Track Transitons - http://www.youtube.com/watch?v=EBvVJ1Fit1s
'Transition' became part of the of the Crook & Cads compilation from Save You Records. How did the track end up in this selection?
I made 'Transition' and it was a track that I didn't initially plan to release. It wasn't something I had thought about as something I wanted to put out there. Just because it was something that I wanted to make, it wasn't specifically for a label or anyone specific. I had just been messing around with bass sounds and vocals and it eventually just came together. The track was originally sent to Rob [Bradley] at Save You Records, just because I had just finished it and I thought they might like it. The initial track I sent them wasn't really a finished version; it was more of just a sample. They liked it so I thought I would spend a bit more time on it, and progress it to where it is a finished track that was ready to play out.
Why do you think it suited Save You Records?
I think it is exactly the kind of stuff they release, it is very dubby and dark, it's raw, the percussion is really distorted and it's the kind of track that Save You really focus on with their techno. It's not necessarily for the peak time of a set, you wouldn't use it at the key moments but it's definitely something that can build a set and a lot of DJs look for tracks like that. I certainly look for tracks like that because they are essential for building a good set, Save You are perfect for putting out tracks like that.
What was your initial mindset going in to 'Transition' and what did you want from it?
The whole inspiration originally came from a bass sound that I found on Rob Papin's Predator, I thought it sounded similar to the bass pattern used in the Jaws films because it had an intense repetitiveness to it. I played with the cut-off and the resonance until I was happy with output as my theory is always if it works in a simple loop then it will work on a full track. Another inspiration for the track came from a track I played when I was in Middlesbrough at a night called *riffraff. I was warming up for Margaret Dygas, it was a vinyl rip of a really rare track from DBX – Daniel Bell - called 'Baby Judy' on Accelerate. I think the vinyl is £100 on Discogs and there is only like one available. I played this vinyl ripthat someone had given me, the reaction it got was amazing and was better than anything else I had played that night. The best thing about that was that about 99% of the people there had never heard that track before because it is so rare, so to get that reaction was impressive. I was inspired to do something along those lines.
'Transition' is laced with vocals, where did you take the sample from?
It was a bit cheeky to be honest, it was from a really famous track by Eddie Amador called 'House Music'. It's a great vocal but it has been used about a million times over the last 10 years. I wanted to use it, but it had to be distorted and I did the classic thing of pitching it down. I chose to use a very small two lines of the vocal rather than using the key parts because it was just the tone of the voice that I liked. I thought that would be enough with some effects and alterations to create an atmosphere in it. I don't think it needs anything more than that because of the tracks not about a vocal. It's an ode to the DBX track which has a vocal in it of a similar ilk, which I think works really well. A vocal is a key part of a house or techno track, despite the instrumental that people think when they listen to it. The vocals for me are key, even if they are just a very small part of the track.
What tech did you use when you were making 'Transition'?
The DAW I use is Logic 9, other instruments I regularly use are Trillian and Omnisphere which are both from Spectrasonics which are really good. They are both sample-based but the effects they come with are really powerful. To create the bass sounds for 'Transition' I used Predator with some careful compression, limiting and distortion. I also added a second sine sub bassline about 3 minutes in the track to give it a low-end boost. I often use the Waves package for this, mainly using L2, MaxxBass & CLA-3A. I also like the PSP warmers and D16 distortion tools. The idea for the sine stab came from the DBX track and I used the Microkorg for that. Through the development of the track, the original production didn't have the acid lead towards the end, I had something else in there but it wasn't quite right. After speaking to Rob I bought this cheap Roland TAL-BassLine TR 303 emulator for £12, after playing around with some extra effects it's a really good emulator. So I looped the acid bass and recorded the parameters live using an Akai MIDI controller. This gave it a much more natural feel, a little bit like you would with a real 303, instead of automating it. That was pretty much it really, then I just focused on just careful drum programming and polishing touches here and there.
You said your thoughts on the track changed throughout its development, what provoked that?
When I write a track I identify the key elements of it and utilise them as best as possible. You utilise the track parts in specific areas to make them as useful as you can. You might write a fantastic melody on the piano, and you might write a great bass groove or it might just be a really good vocal snippet that you like which can catch somebody's ear. In 'Transition' it is stripped back so the bass and the vocal were definitely the key parts of the track, but when you are looking to get to around two or three minutes you can run out of steam with that. I didn't just want the track to just stop and then carry on the same as the beginning like a lot of music does. This track needed to develop a lead, which didn't take away from the main idea, focused around the vocal and lead bass, that's where this 303 sound came in. Originally it didn't have that acid sound to it, I think it adds something to the track without it necessarily changing the whole direction.
Who have you had supporting the track and playing it out?
I remember Tom Craven from Illusion Recordings played it out. I emailed it to Lee Foss and he emailed me back saying that he had already bought - which was quite a nice compliment to receive. It's nice that he took the time to check it out. I got a lot of feedback from the up-and-coming producers which was nice - from people I was chatting to on Facebook or Soundcloud - and people were saying it was a cool track that was a little bit different, which was really nice to hear considering I started with no plans to actually put it out.
How has it influenced your productions today?
One of the things I spent a lot of time on with 'Transition' was my drum programming and careful effects on my drums. I wanted to have an almost live feel to the drums, so the hats and the snare drums are very chunky and they are slightly out of time as well which gives it more of a natural feel. I have definitely taken that on board with releases I have done since, especially on my new EP which is coming out on Gruuv Records (Audiojack's label) – giving a nod to Todd Terry's 909 hat patterns, giving them loads of shuffle and swing. In 'Transition' they were programmed in a slower way, so there were really tiny adjustments between the hats and having them spread slightly differently so it would hopefully sound closer to how a drummer would sound in a studio.
You are progressing into live sets, is this reflection of that?
Yeah, definitely and I think it is reflecting on my knowledge of drum production and how a lot of people brush over it a little bit. Obviously, people can use loops, they can programme a very simple drum loop and it can sound good in a club but the way to distinguish yourself is to try and create a little bit of difference in your drums. I think it's nice if your drums have got a little bit of depth to them, rather than taking the easy way out and just sticking a loop in there or just putting hits on midi line. It is definitely something I focus on the right at the start of a track.
What has made you want to start performing live?
It is something that I have always wanted to do and it is something that I have had at the back of my mind for a while. As much as I appreciate a DJ set, it's nice to have an alternative way of playing. I think there are so many DJs now that turn up with a USB stick and play, which is absolutely fine and I do that as well but I think if I have got the option to say "If you would like to see me play live, this is also a possibility." I have more music out now, it is an ideal way to show and play people some of the music I have made but maybe change it a little bit so it is more interesting. I haven't decided exactly how I am going to play live yet, I have been creating loops, mastering parts and getting things ready. It is just a decision whether I use Ableton Live 9 alongside maybe Ableton's Push, another midi controller and drum machine/synth or if I go along with the idea of using Native Instruments and use the remix decks which those guys have got an F1 controller set up with which is also a very powerful tool. I need to find out which is the best way to go for me, and that is going to take a lot of time and testing. It's in the future, but it is definitely going to take some time.
What else will you be putting out this year?
I have got quite a bit coming out, I was working fairly hard last year. The next thing I have got coming out is a remix on Alive Recordings of Monday Club 'Way U Do'. After that I have an EP out on Electronique, that's got a wicked Jordan Peak remix on it. After that, around May time the Gruuv Records EP will be drop just before summer. After that in June I have an EP on Made Fresh Daily with a Sasse remix. Towards September time I have an EP on a new label called Abstract Culture, which includes a Trikk remix.
What upcoming gigs have you got booked?
On Saturday 1st March I will be playing at Building Six O2 for the Amine Edge CUFF records party and the on Friday 14th March I will be playing at Warehouse London and I have just actually been booked for Found festival in June.
'Transition' proves that even the most self-indulged productions can have a massive effect within the wider world. From what started as a bedroom plaything has become a staple in building and manoeuvring sets that feel perfectly planted at Save You Records. Taking the plunge into live performance is a big move for Cera Alba, and is sure to make his new productions on Electronique and Groove Records even greater standouts in clubland. With his unprecedented knowledge of tech, you can expect nothing less than wizardry when that comes into materialisation.