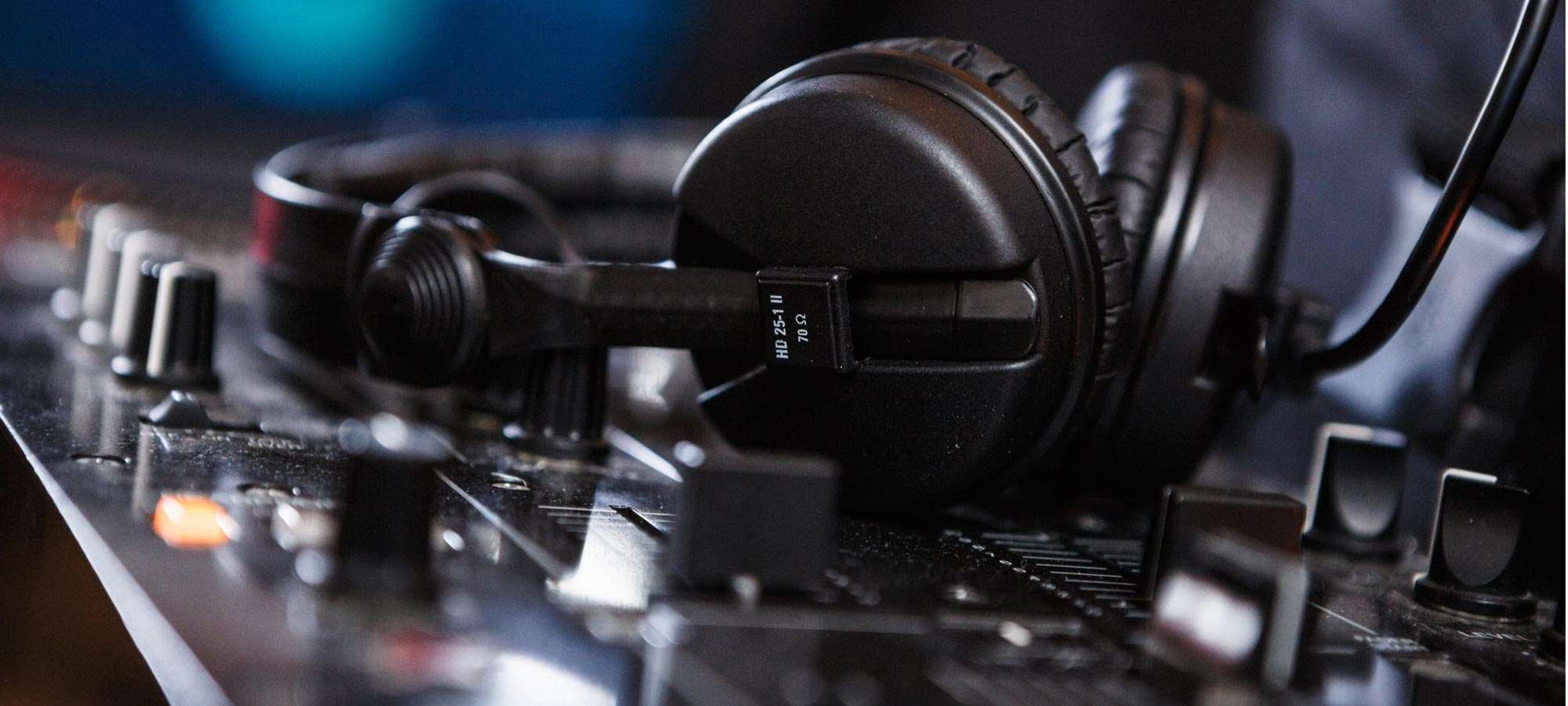 Best DJ Headphones - 'Become a DJ' headphone review
Headphones are a must-have item for any DJ. With such a big choice and models focused and designed just for DJs, it is a hard task to find the right match. We will look into the most popular headphones, DJs opt-out for. I hope you will find this review helpful.
Pioneer HDJ 2000
From their launch in late 2008 the Pioneer HDJ 2000 has become one of the most popular and recognized headphones between DJs. They are at the top of Pioneer's headphone line-up and we figured they are definitely worth checking out. Here are some points we put together:
The Good: Very comfortable due to "Memory-foam" ear pads, create a tight seal around the ears. Fold into a compact size to fit in an included pouch, have a removable coil lead- 50mm dome driver units, high flux magnets help create crystal-clear audio. No distortion at high volumes
The Bad: Better than average over-the-ear sound isolation, however, Sennheiser HD25's isolation is superior having in mind those are on-the-ear headphones. Ear pads do not swivel all the way. Cable is only replaceable by Pioneer and is quite expensive
The Ugly: The price. Based on the performance we would have to compare them to the HD25's, however, those are way more budget-friendly
Our Conclusion: Probably the most comfortable set of headphones we have encountered, however lack of sound isolation, expensive maintenance and the steep price make it an investment to reconsider.
Sennheiser HD25-C-II
Probably the most popular DJ headphones. HD 25 offers mostly everything professionals or enthusiasts would want. There are various variants with longer and coiled cables and higher impedance so be sure to check those out too.
The Good: Professional monitoring headphones offering high attenuation of background noise. Can handle very high sound pressure. Capsules are rotatable for one-ear listening. Lightweight and very comfortable. Value for money spent
The Bad: Durability. The plastic frame or the hinges do not seem to the creek when pressured or used for longer than a month, however, we did encounter some problems with the detachable cable. While in a bag with a laptop the straight jack plug was bent by 90 degrees (go figure how that had happened) and there were some issues with the stereo mini-jacks on top of one of the capsules
The Ugly:- No Ugly points here

Our Conclusion: In our opinion by getting the HD25's you get yourself a superb pair of quality headphones. Whether you need to work on your mix at home or at a studio or perhaps you are a DJ looking to upgrade or renew your equipment.
Sennheiser HD205
The HD 205 are medium-sized, supraaural headphones that provide great sound quality and good sound shielding of ambient noise; comes with a convenient protective pouch for easy storage and transportation.
The Good: Features thickly padded headband and ear cups. Rotating right-hand driver perfect for DJs. Blocks a fair amount of ambient noise due to the stiffly sprung headband. Has a meaty, bass-heavy sound that's best suited for dance music. Compared to other headphones at this price range, it excels with the sound quality.
The Bad: Can be found uncomfortable if you have a larger head. Midrange response is a bit weak. Durability - hard plastic design creaks after moderate use, doesn't fold for storage. Also, the cable is irreplaceable
The Ugly:- No ugly points here
Our Conclusion: Overall very good value for your money and a definite winner in this price range; we use them proudly at our DJ School. In our opinion, Sennheiser DH205 are perfect headphones for beginner DJs.
AiAiAi TMA-1
AIAIAI, Denmark company, claims to have been working in collaboration with 25 professional DJ's (James Murphy, A- Trak, Seth Troxler, Madlib, amongst others) while designing and testing the headphones which are orientated to deliver pro-quality performance in studio and on stage. But does it? 😉
The Good: Clear engaging sound, thumping bass and dynamic midrange, however, high frequencies do not deliver. Zero distortion – even when pushed hard. Another on-ear set rather than over-ear, which offers good isolation, not just for the listener, but also to those around. Durability - The headphones are built to last; expandable rubberized wire and robust, one-piece design (not a single screw to be seen)
The Bad: High-frequency sound is too week thus certain genres of music will suffer heavily in term of quality. No rotating ear cups for single-sided listening. Not foldable, which stops the headphones being as space-efficient as Pioneers, however, the whole earpad sections are removable. No cushioning on the thin rubber headband, which can lead to fatigue after long periods of use
The Ugly: No ugly points here
Our Conclusion: All in all, good, DJ focused headphones that sound reasonably well, are durable, stay on your head and look good, however it seems that the comfort of the headphones was sacrificed for the minimalistic look by not adding some cushioning for the headband. On the other hand only suitable for limited genre of music. Is it the best DJ headphones, probably not? Personally, we have chosen to go for Sennheiser HD25.
Beats by Dre MIXR
You all most likely have seen a lot of people walking around wearing headphones with a distinctive and bright 'b' logo on them. Are the headphones that good or is it just a brilliant example of good marketing?!
The Good: Bass driven, great if to be used for DJing. No distortion at high volumes. Loud, 40mm drivers deliver a massive amount of volume, again good if you are using headphones for DJing. Each earpiece has a jack which gives you a choice of which side to plug into. Replaceable cables, very durable. Easily foldable to store in the supplied case
The Bad: Earpads seal ambient noise quite well, however, leak sound to others. Headphones can get tight around the ears, headband could have a bit more padding, not the most comfortable ones. Too loud, which makes them not the best fit for production use. 

The Ugly: The price is ugly! Too expensive compared to other headphones in the market that offer similar quality and comfort.
Our Conclusion: Buy these headphones only if you will use it purely for DJing- when you need to hear sounds over the ambient noise, as it will deliver extreme levels of sound, which are clear and undistorted. To our understanding, it is way too overpriced and the mentioned Sennheiser HD25 is around £90 cheaper, which sounds good in studio as well.