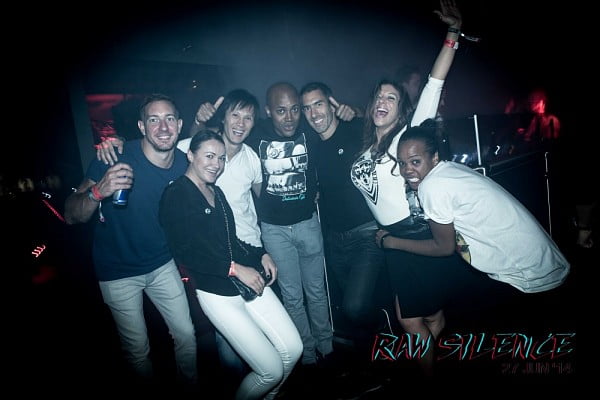 'Become A DJ' Students rock Pacha London
Pacha, 27th June was home to the Raw Silence crew for the night and they invited world-renowned DJ/Producer John Monkman to play. What a fantastic night it was, with everybody from the foot shufflers to people in tuxedos present. 13 Raw Silence DJ's played alongside John Monkman of which 2 were their first time playing out live. Where did they hone their amazing talent I hear you ask, It was London's finest DJ and Music Production School 'Become A DJ'.
The 13 DJ's creating vibrations amongst the crowd spread across two rooms alongside John Monkman included - Rimus, Keith Hunter, Long Pham, Pitix, Mark Ellis, Nico, Novella-K, F.L.Y., Sodergrenade, Naanite, H!FON-G, Tim James and Ed Esquire.
Here is how some of the guys playing described the night:
Michel aka Pitix - "A good sound system matters. After playing at Pacha for Raw Silence I couldn't deny it any longer. Sure, there were the lights and the cool venue, but what makes it a real party is the Raw Silence crowd dancing and celebrating the music…"
Katie Arnold - "My first set at Pacha has to be up there as one of the absolute highlights of my life so far. I have spent plenty of time daydreaming about playing music that I love to people since I was a young girl. I am so happy to say that actually doing it was everything I hoped it would be, and more. Being able to not only see and hear but to actually see people respond to the music as the energy in the room shifted, has to be up there with one of the most amazing feeling I've had. After a few minutes of relaxing into it, being behind the decks genuinely felt like home. I am so so happy I stuck at the course, despite a few challenges along the way, and followed my heart rather than my fears and doubts. Thank you so much to Mantas and Egle for all your hard work, dedication and support. You have helped me to bring a life-long dream to life!"
Mats - "I played my first gig at Pacha back in April and it was a truly amazing experience. The buzz was amazing and the crowd were brilliant. I was so surprised to be playing again and finding that the energy was even bigger than the first time. Everyone was in a great mood, some amazing tracks were played and you could really feel that everyone was having a great time. My set just flew by and I was having such a good time it felt like I was only up there for 5 minutes. The extra sound and smoke machines etc added to what was already an electric night with so much energy flowing. I am really looking forward to playing there again. I have no doubt that the Raw Silence crew and the crowd will make it into another unforgettable night. Hope to see you all there soon. Thanks."
Marianno - "The Raw Silence nights at Pacha London is definitely one of my favourites. Everybodys vibe is just amazing from the very start till the end of the night. Performing there is the best, you feel you are being taken care of and your sound is really going to come through thanks to the constant improvements to their sound system. People know they are going to come and listen to an amazing crew of DJs playing the best music."
Paul Wright - "I had a epic night at Pacha. I really enjoyed playing my set and the crowd were amazing. I can't express how grateful I am to "Become A DJ" for making all this possible."
It was a fantastic night for all those involved and the only way i could personally describe it is with a quote from the famous Friedrich Nietzsche - "those who were seen dancing were thought to be insane by those who could not hear the music". Raw Silence came, saw and conquered with heads held high in the knowledge of another successful party.
Photos can be found here - https://www.facebook.com/RawSilenceRecords