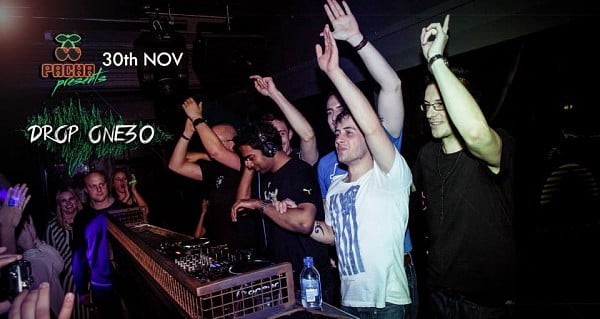 DropOne30 – Become A DJ Pacha Parties
At 'Become A DJ' we don't just teach you how to beatmatch on CDJs or vinyl just for you to become a bedroom DJ. 'Become A DJ' is one of the only DJ schools that offers students the chance to take their mixing abilities, honed through professional training, out into the real live world of London clubland – because let's be honest when we DJ, we always want to create that 'hands in the air' moment for the clubbers and ravers.
DropOne30 is the 'Become A DJ' party series for student DJs mixing the sounds of progressive house, electro to create those massive big room moments. With a sound selection so big, DropOne30 needs a giant club to play it out in. Previous parties have been held at Ministry of Sound, while more recently 'Become A DJ' and DropOne30 have worked with super-clubbing brand Pacha, at their London HQ.
Not even some of the biggest DJs in the world have the 'Play Pacha' box ticked on their DJ bucket list, so our first time live DJs have experiences that even top some of the big boys as DropOne30 DJ Jason explains, "Playing at Pacha was the coolest, most uplifting experience ever. The energy you get from the crowd is amazing. All of this would not have been possible without 'Become A DJ'. They helped me to unlock the skills I needed in order to perform at a 'club' standard, giving me the confidence to play in one of the most well-known clubs in the world!"
It's this 'club standard' DJing that Become A DJ delivers to all our students, taking the student from complete novice to resident ready DJ. It is important that DJs get this live experience as DropOne30 DJ Arvind describes, "Realised that it's very different to know (in studio) how to play than actually playing in front of live audience, there is so much going on. Once you hit play on your first track, time moves like a flash and the rush you feel is beyond words. Your entire set seems to finish within five minutes and you're like "wow, what the hell was that?" It's magnetic and once you start, there is no end; you're already thinking about your next gig.. Love it!!!"
DropOne30 parties feature regularly throughout the year so keep your eye on the Facebook page for event details, photos and DropOne30 mixes. We don't just forget about DJs when they have played their first gig either, we always invite our students back to party with the DropOne30 family again as DJ Mesh enjoys, "I thoroughly enjoyed playing at the last two parties at Pacha. It was an overwhelming feeling of joy to play music that you love and see the crowd loving it too!! I can't wait to do it again!! Become a DJ helped create the link between DJs who share similar tastes in music to play together."
It's that first time moment that is the really special one however, bridging the gap between bedroom and dance floor as DJ Nico explains, "As my first DJ club experience, Pacha couldn't be any better. It ticked all the boxes: very good sound, great ambience and most important, great crowd! I will always be very thankful to Mantas (and Egle) not only for teaching me how to DJ but also for giving me the opportunity to do so!"
Become A DJ students get the experience of playing, nurturing and honing their DJ craft ready to completely own clubland. We look forward to seeing you dropping it like it's hot at the next DropOne30 party to catch the freshest new DJs before they are shouting "F**k Me I'm Famous" from an Ibiza superclub DJ booth.
More photos:
https://www.facebook.com/media/set/?set=a.674764612582510.1073741831.623794904346148&type=3